Simply sweet and simply delicious, Fresh Strawberry Pie is easy to make and worth every bite. A flaky pie crust filled with luscious creamy goodness and then topped with Amazing Fresh Strawberries and homemade strawberry glaze.
Ingredients
1 Frozen Pie Crust, baked according to directions (or make your own)
2 lbs Fresh Strawberries
1 cup sugar, a little less if strawberries are nice and sweet
3 tbsp corn starch
the juice of half a lemon
6 ounces softened cream cheese
⅔ cup sour cream
¼ cup sugar
1 tsp vanilla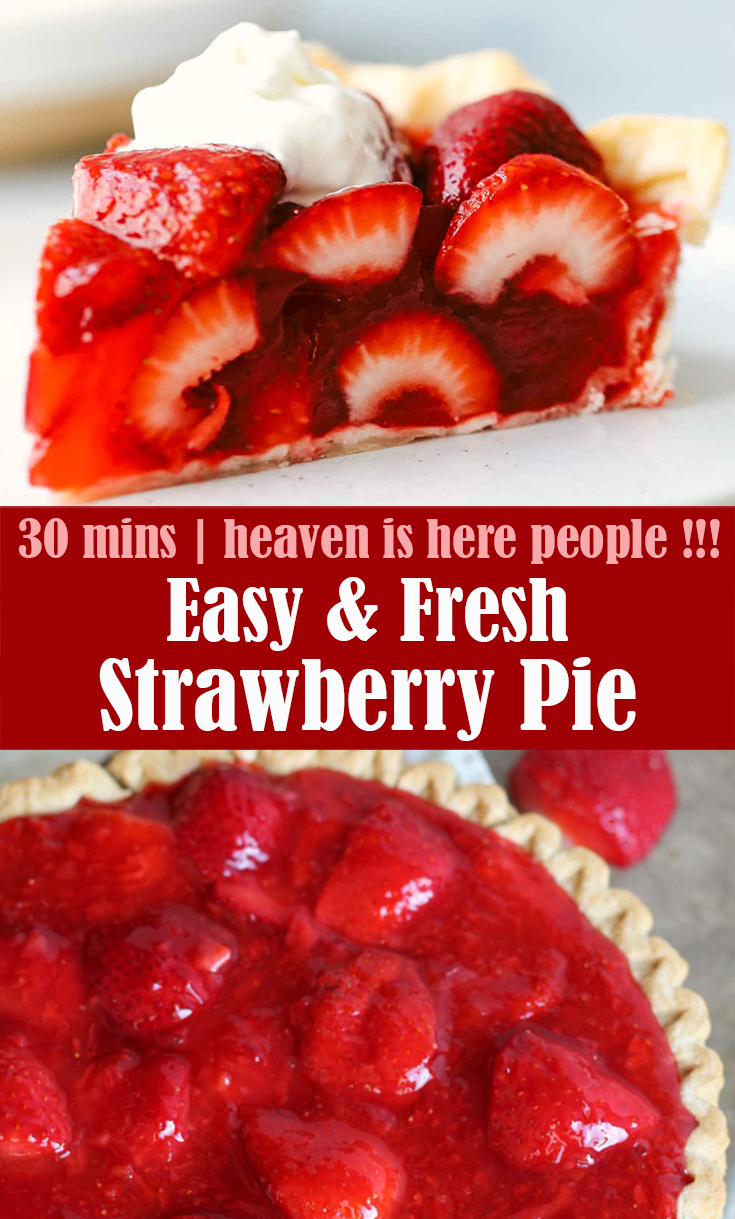 More delicious recipes :
Instructions
Make sure pie crust is cooked according to package directions and cooled completely
Chop one pound of the strawberries into tiny pieces, You can do this by hand or with a food processor
Cut the other pound of strawberries in half. If there are some huge ones, cut them in thirds or fourths and reserve for later
In a medium sauce pan, combine 1 cup sugar, corn starch, the juice of half a lemon and the finely chopped strawberries, Cook over medium heat, stirring constantly until thickened.
Remove from heat
In a small/medium mixing bowl combine softened cream cheese, sour cream, remaining sugar and vanilla. Using a hand mixer or a whisk, beat mixture until completely combined and smooth.
Spread cream cheese mixture into bottom of completely cooled pie crust.
Add the largely chopped strawberries to the thickened strawberry glaze mixture and stir gently until they are all coated and then pour that mixture over the cream cheese mixture in the pie crust and refrigerate for 2-3 hours or until ready to serve.