Juicy and savory seasoned Garlic Steak and Potato Foil Packs are simply the most perfect baked or grilled hearty, healthy meal, perfect for busy weeknights and done in just 30 minutes! Best of all, instructions for the oven and the grill.
INGREDIENTS
2-2 1/2 pounds top sirloin steak, trimmed of fat and cut into 2 1/2-inch pieces (see note)
1 pound baby yellow potatoes quartered (or halved if they are already less than 1 inch in size, see note)
3 tablespoons olive oil
salt and pepper, to taste (I use about 1 teaspoon salt and 1/4 teaspoon black pepper)
1 tablespoon minced garlic
1 teaspoon onion powder
1 teaspoon dried oregano
1 teaspoon dried parsley
1 teaspoon dried thyme
fresh thyme or parsley for topping (optional)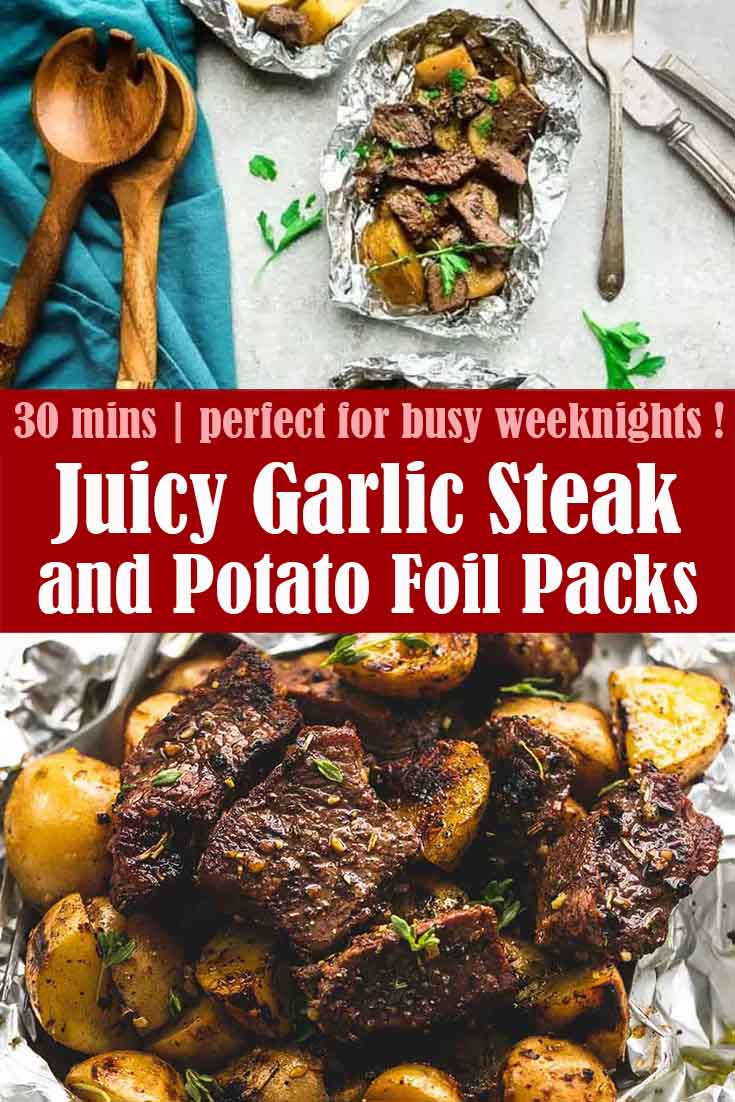 More delicious recipes :
NOTES
Be sure to cut your steak into pieces that are at least 2×2 inches, and potatoes into pieces smaller than one inch. This ensures even cooking.
*For medium doneness on the steak, boil the potatoes first for five minutes before adding to the bowl and proceeding with the rest of the recipe. This will help them to cook faster once in the foil pack.
**If you prefer a char on your steak, you can open up the packets at the end and cook for a couple minutes directly on the grill, or for baking you can switch oven to broil for a few minutes (with packets opened).