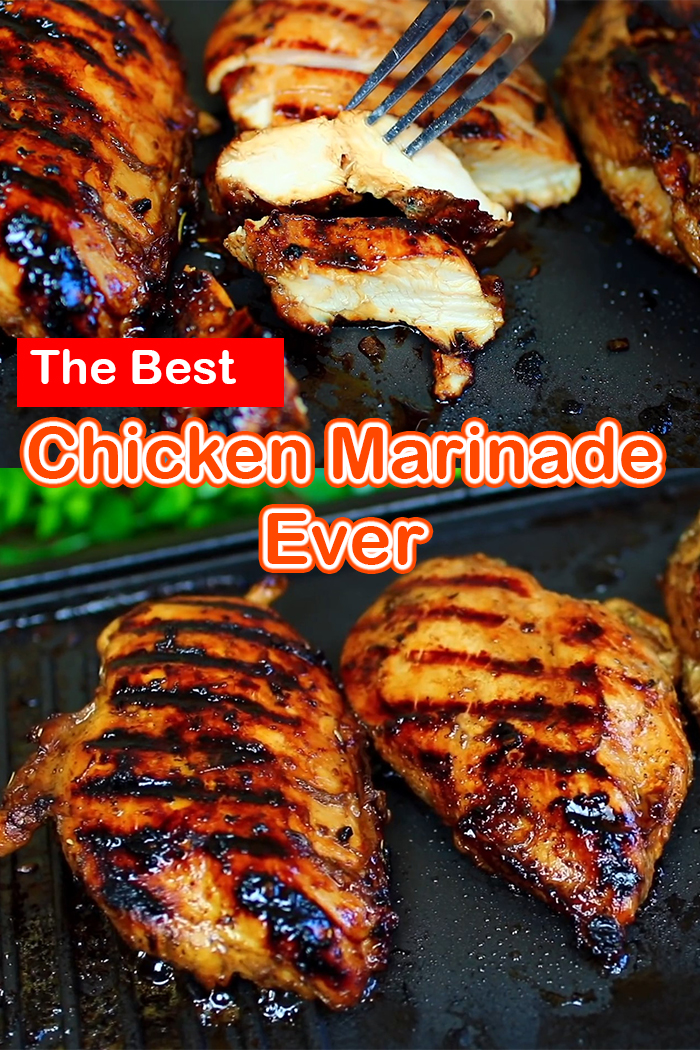 The Best Chicken Marinade Recipe ever makes chicken extra juicy and flavorful. This easy savory marinade makes grilled chicken mouthwatering, and keeps the chicken incredibly moist and outrageously delicious – try it today!
INGREDIENTS
For the Marinade
1/2 cup olive oil
3 Tbs lemon juice
3 Tbs soy sauce
3 Tbs balsamic vinegar
1 Tbs Worcestershire sauce
1 tsp each garlic and onion powder
1 tsp Italian seasoning
1/4 cup brown sugar
salt and pepper to taste ( i used 1/2 tsp each salt n pepper)
Instructions
Pierce chicken breasts with a fork all over. Place in a large Ziploc bag.

In a bowl, stir together oil, lemon juice, soy sauce, balsamic vinegar, brown sugar, Worcestershire sauce, garlic, salt, and pepper.

Pour marinade over chicken.
Let marinate for at least 30 minutes. 4 – 5 hours is ideal.

Preheat grill to medium heat. Brush grill with oil to prevent sticking.

Place chicken on the grill. Cook for approximately 5 – 6 minutes per side, depending on the thickness of chicken. The internal temperature of the chicken should reach 165 degrees.

Remove chicken from grill and let rest for 5 minutes.
Easy Chicken Marinade Recipe VIDEO from Cooking With Claudia Channel
If you enjoy this video, please subscribe to Cooking With Claudia Channel..
If you like the recipe, please share it.
Let us know if you liked this recipe. Try the other recipe categories as well!