Here I'll show you the secrets to getting extra crispy chicken tenders in the oven. Easy to make and bursting with flavour, these breaded chicken tenders are the ultimate finger food! Makes approx 16 tenders (depending on size) so serving is approx 4 people.
Equipment:
Large Baking Tray + Wire Rack (optional)

Cooling Rack

3 Large Bowls

Small Bowl (for spice mix)

Sharp Knife & Chopping Board

Frying Pan & Wooden Spoon
Ingredients :
1.3lb / 600g Chicken Tenders OR Chicken Breast, sliced into strips & at room temp (see notes)
1/3 cup / 70g Flour
1 1/4 cups / 75g Panko Breadcrumbs (see notes)
1 heaped tbsp Butter
1oz / 30g freshly grated Parmesan (see notes)
1 Egg, beaten
2 tbsp Milk
1 tsp each: Paprika, Salt
1/4 tsp each: Onion Powder, Garlic Powder, Black Pepper
1/8 tsp Cayenne Pepper, or to taste
Oil Spray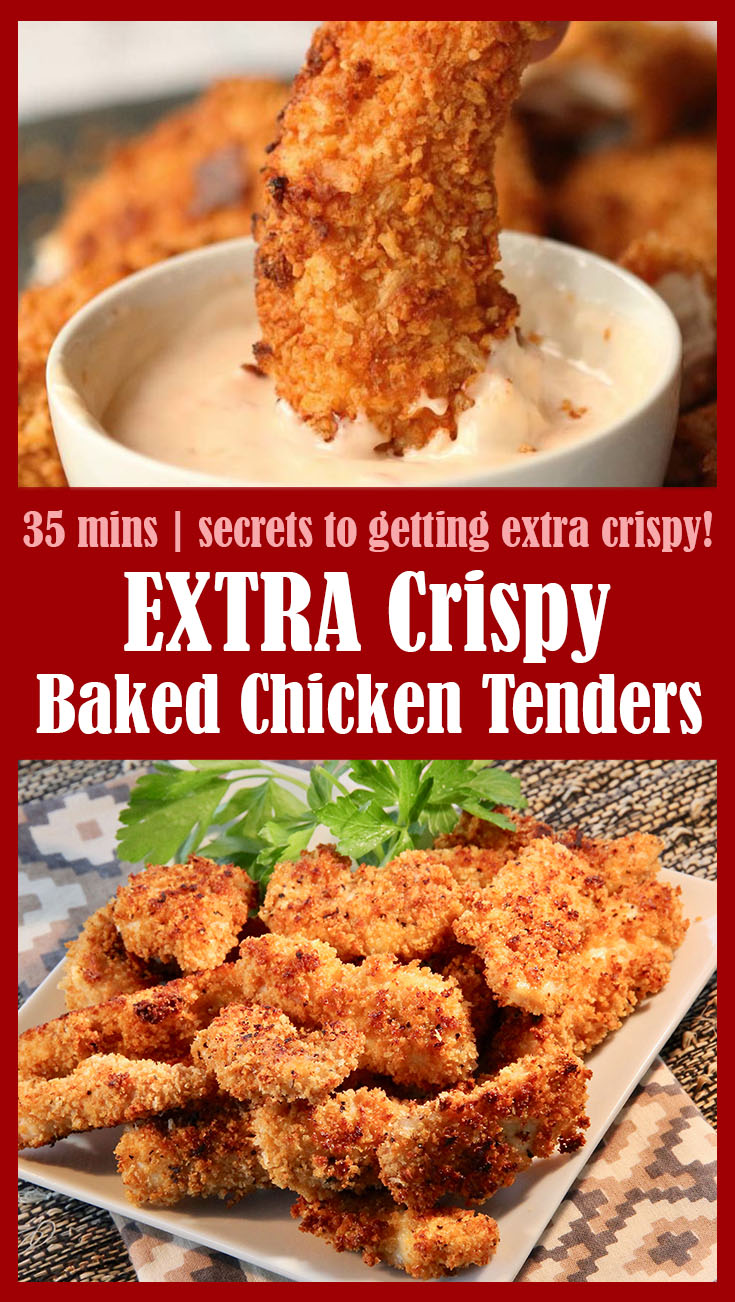 OTHER CHICKEN DINNER RECIPES YOU MAY ENJOY :
Notes:
a) Chicken Tenders – A chicken tender is actually that strip of meat located underneath the breast. I find them to be ever-so-slightly more tender than the breast itself, so if you can get a pack of pre sliced chicken tenders go for that. However, sliced chicken breast works perfectly. One breast should get around 5-6 'tenders'.
b) Panko Breadcrumbs – These are Japanese style breadcrumbs and work perfectly as they're nice and chunky (i.e extra crispiness). You'll find them in most supermarkets/grocery stores, most likely in the Asian section.
c) Parmesan – I've actually tested these tenders with and without parmesan. I find the parmesan does add extra flavour and a little extra crispiness, but if you don't have it it's not a deal breaker. They come out great without it too.
d) Dips – I served these with Sweet Chilli Mayo, but do check out my other Delicious Dips for more inspo!
e) Calories – Assuming parmesan is used and the whole recipe is shared between 4 without a dip.
Did you find this post useful? Want to get back to this page later? Save THIS PIN below to your Recipes board on Pinterest!